It's true that all tyres look alike, encased in black rubber with a tread profile to grip the ground. Yet this simplistic vision does not take into account the research work carried out year after year by tyre manufacturers seeking to produce precision equipment. Each agricultural tyre has been developed to correspond to a specific use. If you choose well, it will improve the capacities of your machine, preserve your soil, or allow you to work faster while consuming less fuel. It really is particularly difficult to choose the most suitable model for your specific case, because the sales pitch always directs you towards the most costly model. This is why Firestone has developed an online selection tool to help you choose the model that best corresponds to your farm.
Here is our online tool for choosing agricultural tyres
https://www.firestone-agriculture.eu/en/technical-datasheets
As every farm is different, you cannot make do with the tyres originally fitted on your machine (which are the same for all customers), just assuming that they are right for your specific case. That is why you must identify the main use of each machine to help you choose the best tyre model for your farm.
There is a range of tyres that corresponds to each machine and to each activity. With the selectors on the "Technical tyre guide" page, you can filter the different models based on the machine you are looking to fit with tyres and the principal use you intend to make of it.
Here are certain priorities that you can choose:
---
1. You wish to preserve your soil
When you use our tool, start by choosing the type of "Agricultural vehicle" that you wish to fit with tyres. If your objective is soil preservation for work in the fields for example, choose "Maximum soil preservation" in the selector.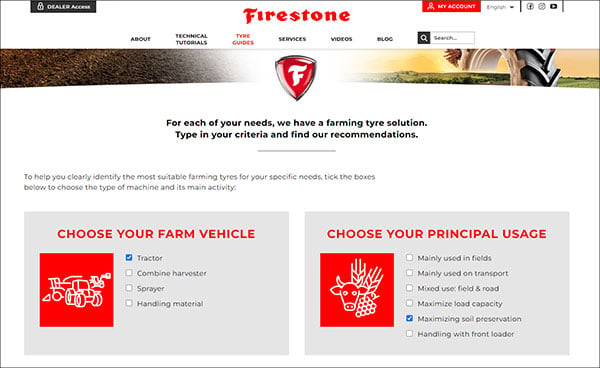 You will obtain the list of the most suitable tyres for working at low pressure and therefore protecting your soil. Firestone produces a range of premium tyres that have been developped specifically for field crop farming, which reduce the effects of soil compaction, even when carrying heavy loads.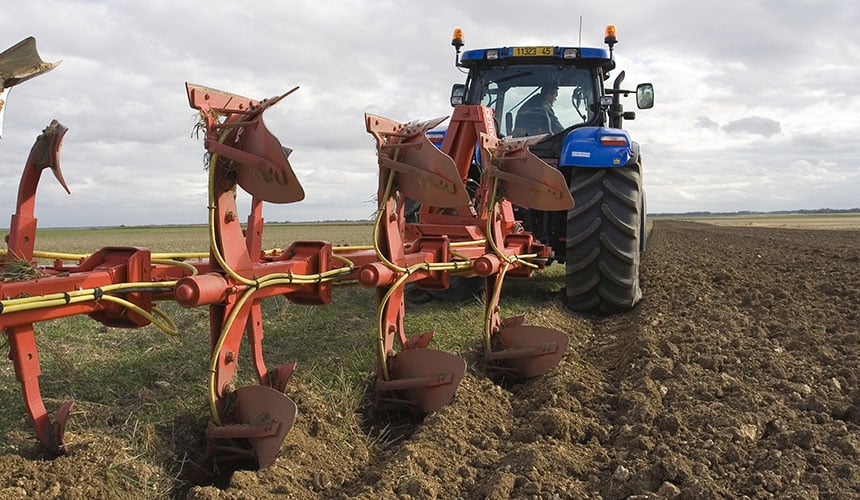 More high-tech tyres to avoid soil compaction
Low-pressure agricultural tyres are characterised by their very robust casing and their supple sidewalls, which enable them to work at a low inflation pressure without altering the structure of the tyre. They are highly efficient in terms of soil preservation.
Unlike standard agricultural tyres, these high-tech tyres can work at very low pressure, which minimises the impact on the structure of the soil and allows for the circulation of air, water and nutrients. These conditions encourage deep root development and good crop growth, leading to better quality harvests.
Better soil preservation with Firestone's Maxi Traction tyres
From among the agricultural tyre ranges developed by Firestone, Maxi Traction tyres can be a prized asset for intensive work in the fields. Their exceptionally robust casing offers greater resistance than average, making it possible to work at a very low inflation pressure (as little as 0.8 bar). Thanks to its innovative structure, the load is spread smoothly over a longer contact patch with the ground, which limits compaction to the arable layer of soil.
In addition to its resistant casing, it sets itself apart through its dual angle lug design which allows the tyre to grip hold of the ground over a larger surface area, thus improving the traction capacity.
There are many advantages that come with use of Firestone's Maxi Traction tyres:
Reduced compaction
Better traction
Very good resistance to impacts and wear
Wide pressure range of 0.6 to 1.6 bar
Up to 3 bar with a cyclic load at a speed of 10 km/h
Can cope with 30% more load than standard tyres
Exceptional durability and longevity.
Driving comfort and precision turning
2. You drive on the road or use your tractor a lot for transport
If your tractor is often on the road or makes a lot of trips for transport purposes, select the option "Principal use: transport" in our selector. You will be given access to a list of the best tyres for regular transport or long distances by road.
Give priority to agricultural tyres that are highly resistant to wear for use on the road
Tractor tyres are originally meant for use in a field full of earth, essentially to optimise traction on loose or wet ground. Using them regularly for transport on hard, abrasive surfaces such as asphalt will accelerate wear. For frequent use on the road, sturdiness and resistance to wear are the main characteristics to look for when you choose your tractor tyres. Firestone has developed tyre technologies that satisfy your needs completely.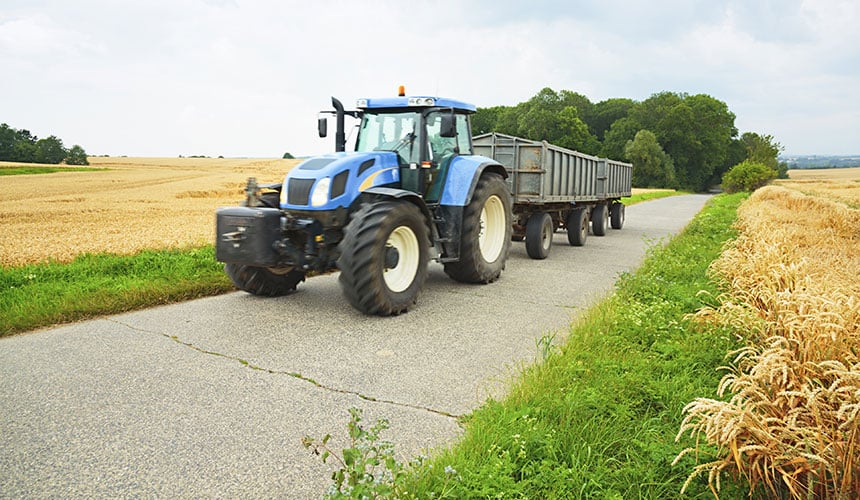 The Performer Extra 85 tyre: the solution for frequent transport by road
Firestone's Performer Extra 85 tyres are widely appreciated for frequent road use. They are highly resistant to wear thanks to the addition of specific materials which increase their useful life. The very resistant casing can cope with heavy loads and also contributes to this increased durability. The lugs overlap in a specific way to obtain great road handling capacities and a comfortable driving experience with less noise and vibrations.
Advantages of the Performer Extra 85:
Addition of an anti-wear compound
20% more hours of work
Reinforced casing that is more durable
Very high load capacity
Pressure range of 0.6 to 1.6 bar depending on tyre size  
Very good stability on the road
Flexible driving, less noise and vibrations.
---
Maxi Traction 65: better traction and excellent road capacity
Firestone's Maxi Traction 65 tyres are characterised by their versatility: crop farming and transport. The design of their lugs has been improved, they are longer and wider to obtain a very good traction capacity and better resistance to wear on the road. The specific overlapping lug design offers better shock absorption and a comfortable driving experience with great road handling capacities.
These premium tyres are suitable for work in the fields as well as for driving on the road:
Longer wider lugs
High traction capacity
Pressure range of 0.6 to 1.6 bar
Robust casing with a reinforced structure for a higher load capacity
Very good stability even in extreme conditions
Very long wear life
---
3. Your farm specialises in mixed crop-livestock farming
In the selector, you can choose "Mixed use: field & road". You will obtain a selection of the best tyres for mixed crop-livestock farming. The tyre models available in this category are highly versatile for work in the fields and the court farmyard.
You have the choice between:
Maxi Traction 
Maxi Traction 65 
Performer Extra 85
Performer Extra 70.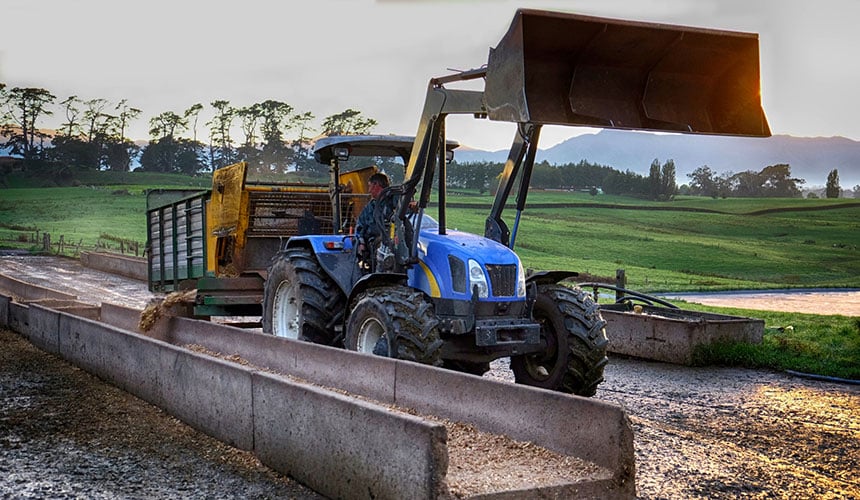 These tyres are highly adaptable, thanks to their ultra resistant casing and their reinforced sidewalls, which means that they can be used at very low pressure in the fields, to avoid soil compaction and improve traction capacity, as well as for use at high pressure, for handling with a front loader in the farm courtyard.
These tyres have been designed to offer exceptional resistance to wear and to the strain of frequent manoeuvres on abrasive ground in the farm courtyard or livestock farming buildings.
The specific design of their thicker Dual Angle lugs is optimised for exceptional traction and adherence in the fields. You will therefore have a better road handling capacity and work efficiency.
These tyres, which are designed for mixed use, are a wise choice as they guarantee optimal efficiency on different types of land.
4. Handling operations
In the selector, in terms of equipment you can choose "Handling equipment" and as far as use is concerned you can opt for"Mixed use" or "Hard surfaces".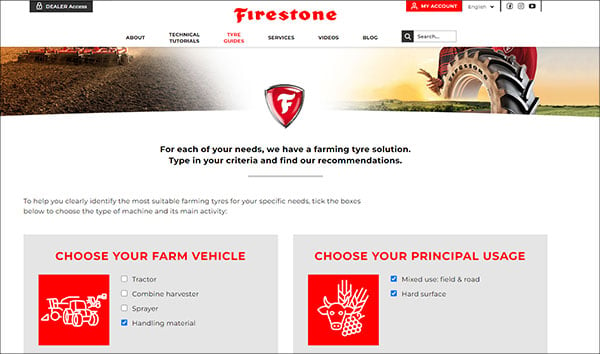 What type of tyre for handling?
For your handling operations, the choice of tyres for your telescopic forklift trucks plays a decisive role in the stability and efficiency of this equipment. The different constraints, such as frequent front to back movements, tight turns and heavy loads carried at the end of the boom, require suitable tyres that will provide optimal efficiency and productivity while guaranteeing the long life of your equipment.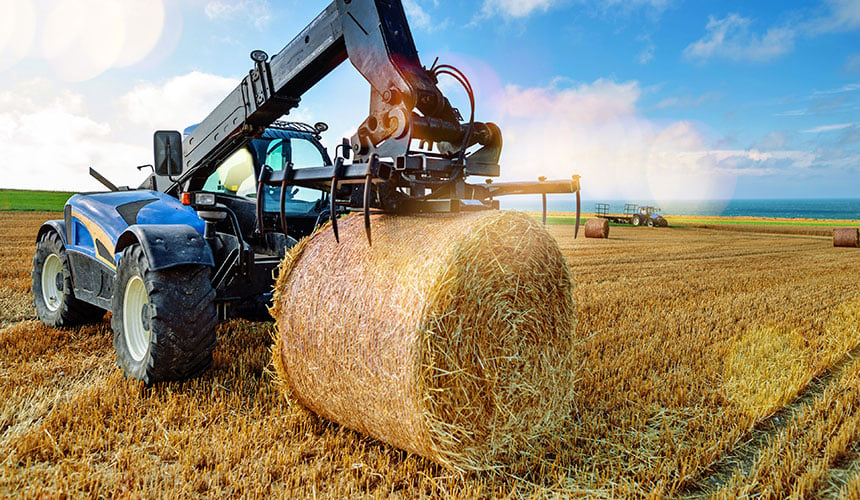 R8000 Utility tyres: exceptional stability and adherence
For intensive handling operations, Firestone's R8000 Utility tyres are the ideal solution. Their wide lugs provide good grip on all surfaces. The extra-wide tread arch and very thick sidewalls lead to very good lateral stability for lifting manoeuvres.
Principal characteristics:
Very robust casing
Pressure range from 1.2 to 4 bar (depending on the tyre size) 
Good traction capacity in the fields
Very thick sidewalls, excellent cut resistance
Suitable for complex manoeuvres
Very good stability
---
Duraforce Utility tyres: robustness and driving comfort
Firestone's Duraforce Utility tyres are an ideal choice for intensive handling operations on very hard ground. Their reinforced casing, with thick sidewalls and an extra-wide tread, lead to resistance and optimal stability. With their precision during manoeuvres and driving comfort, they are perfect for handling materials in the farm courtyard.
Principal characteristics:
Very robust casing
Pressure range from 1.2 to 5 bar (depending on the tyre size) 
Very good adherence on hard surfaces
Very thick sidewalls, excellent cut resistance
Suitable for complex manoeuvres on hard surfaces
Flat tread for better stability
---
5. Use of specific machines
In the selector you can choose "Harvester" or "Sprayer". You will get a selection of the most suitable tyres for the uses of these machines.
The Maxi Traction Harvest is designed for harvesting
For your harvester, opt for robustness and comfort. The Maxi Traction Harvest tyre has been designed for better cyclic load management with a load bonus of 55% possible at 15 km/h and up to 70% more load at 10 km/h. Its dual angle lugs offer optimal traction and the tread has been optimised to obtain good road handling and great precision during manoeuvres in the fields.
Strong points:
Very robust casing
Tyre suitable for cyclic loads
+70% load at 10 km/h in cyclic operations
Pressure range from 0.8 to 4 bar
Excellent traction capacity
Very good road handling
Very good stability
---
For sprayers: give priority to the Performer 95 Row Crop
Ideal for spraying, the Performer 95 Row Crop tyre is equipped with a steel belt to manage heavy loads as well as a very wide sprayer boom for example. Its narrow width reduces crop damage while providing an exceptional traction capacity.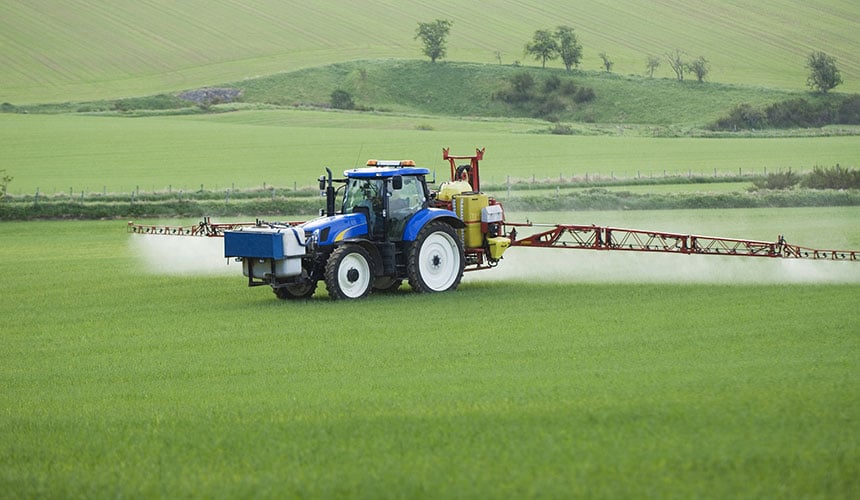 Strong points:
Narrow tyre
Robust casing
Tread with steel belt
High speed index (up to 65 km/h)
Pressure range from 1.6 to 5 bar
Cyclic bonus load up to 5 bar
Very high load capacity
CONCLUSION
Choosing a tyre that is perfectly suited to your most frequent use rather than a standard tyre will help you make real savings. Over its full working life, the tyre that you have chosen will bring you optimal efficiency and improve your machine's capacities and your working time, while reducing your fuel consumption.
---
For more information on tractor tyres
With Firestone, you have the guarantee of tractor tyres that deliver a real advantage, and that in choosing our brand, you can work worry-free.
Most people who read this article have also read some of the following articles:
This information is intended only to make you aware of the technical and functional aspects of agricultural tires and their use. It does not allow you to make a judgment or a definitive conclusion on a given problem. Only your agricultural tire expert is able to make a technical assessment and take a final decision, case by case.