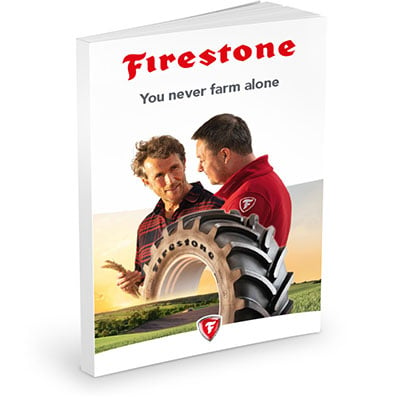 The Firestone Tyre
will fit your bill
Firestone helps farmers to get more out of their land with quality tyres which deliver greater productivity, enable cost-effective operations and minimise the impact on your precious topsoil. Our full range of Firestone tractor tyres gets all your jobs done at an excellent cost per hour.
This means that you can save time, fuel and money.

Discover a wide range of agricultural tyres to meet all your needs:
For high and medium horsepower tractors: For soil preparation and transport.
For medium horsepower tractors, including vineyard tractors: For multi-tasking and transport.
High-performance tyres for spraying operations.
High-performance tyres for high productivity harvesting.
High-performance tyres for agro-industrial applications.
FILL IN THIS FORM TO DOWNLOAD YOUR GUIDE